What came first in your mind as you heard of Cilacap city? Yes, Nusa Kambangan (beautiful port filled with friendly local tourists)! It is an icon of this city. But, do you know that Cilacap holds a good number of tourist activities that is not less interesting. Most of the tours offered by Cilacap are coastal tourism because of the location, which is adjacent to the Indian Ocean. Nusa Kambangan is an island located in Central Java, which is serene and calm!
You can take a bus to Cilacap and buy online tickets to keep your hassles away. This helps to save time and money. Besides, you can reach the destination in a jiffy!
Travel Tip: For those of you who want to go to Cilacap from Surabaya by bus, you can go to the bus boarding point in the Sidoarjo Garage. The buses will take you directly to Cilacap Terminal.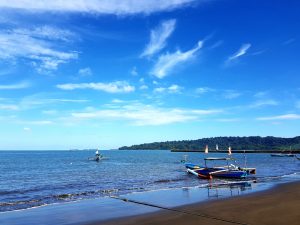 Pendem Fort and Teluk Penyu Beach: This Dutch heritage fortress fits in your walking list when visiting Cilacap. The fort, which is situated in one area with Teluk Penyu beach, has an area of ± 6.5 hectares. Here you can see the robustness of the fort that witnessed the struggle of ancient heroes, you can also take pictures in the corners of this fort that has high historical value. After enjoying a historical tour at Benteng Pendem, you can go directly to Teluk Penyu beach, which is no more than 2.5 kms. This beach offers exotic views and if you are lucky you can watch the sea alms ritual (activity) that fishermen carry out here.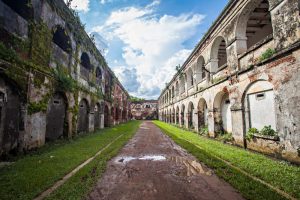 Curug Mandala: It is one of the popular Mandala's tourist destinations. It is a waterfall that must be visited by taking the roads from Cilacap. Because Curug has an incredible scenery surrounding it! What is unique about this waterfall? It is the water flow here is affected by the surrounding weather conditions, if it rains it will emit a lot of water while during the dry season the water that emits is not as heavy as when it rains. You don't need to be afraid of feeling too cold because the waterfall tends to be moderate, not hot nor cold. Tranquility and cool atmosphere make you feel relaxed and comfortable.
Tempe Mendoan: Who does not know the food that is quite popular in Cilacap? Yes, tempe mendoan comes from Cilacap. Even though you find this outside Cilacap, it doesn't make you have to remove this food from the Cilacap culinary tour list. This half-cooked tempe is very delicious to eat, especially when it's just cooked.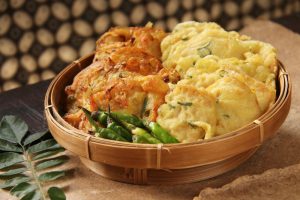 Klanting: This typical Cilacap snack is like a souvenir for tourists to take home. This Klanting is made from boiled cassava, then softened, formed and fried. The shape is fleeting like the number eight having a texture that is quite hard but tastes salty.
Brekecek: This typical Cilacap food has a distinctive taste because it is made from rich spices. For the taste it is sweet, salty and spicy. Brekecek usually uses Jahan fish heads mixed with spices.