The city of Semarang is influenced by Chinese and Dutch cultures. You can visit the old quarter, which is called Outstadt. It is well worth exploring! This area is filled with colonial buildings that takes you back in history. Semarang that is the origin of Lumpia has many tourist destinations.  The popular route to Semarang from Yogyakarta can be enjoyed by taking a bus at Nusantara Terminal Giwangan. Besides Nusa Giwangan Terminal, you can take a bus from different boarding points such as Jl Diponogoro No: 73, Yogyakarta and Nusantara Terminal Jombo. The ticket prices usually ranges from 45,000 – 80,000 depending on date and time of departure.
Some of the popular things to see and eat in Semarang (get ready to be surprised) are as follows:
Lawang Sewu:

It is one of the popular tourist attractions in Semarang. Visitors usually take a historical tour. Many have connected this building with mystical things. However, behind that all Lawang Sewu is still obligatory to visit. The building, which is known to have a thousand doors has a sturdy building and also a thick history behind it. Moreover, if you visit Lawang Sewu at night, you will get a beautiful view from the outside to around Lawang Sewu.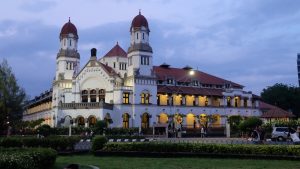 Umbul Sidomukti:

It is a mountainous natural area in Semarang for tourists to visit. You will get an amazing mountain view that makes you feel at home here for a long time. This area also provides facilities such as swimming pools, outbound, places for camping, jogging tracks, lesehan huts (where people dine and drink). Besides, it is located under the slopes of Mount Ungaran, Sidomukti Village.
Pagoda Avalokitesvara Buddhagaya Watugong

: Semarang does have a lot of historical tourism and this pagoda is one of them. This Pagoda monastery holds a lot of history, which was built during the collapse of the Majapahit kingdom. The unique shape of the building attracts many visitors to this temple. Visitors can try their luck with the Tjiam Shi prophecy. You just shake the bamboo until one of the bamboo falls, you can give the fallen bamboo to the clerk there to read it. It is said that, if 3 times tried to shake but none of the Bamboo had fallen, it would be possible that bad luck would occur.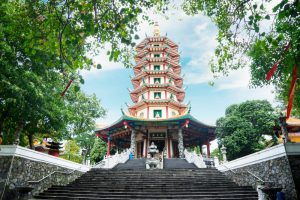 Lumpia Semarang:

This falls under culinary tourism as discussed earlier, the city of Semarang is indeed synonymous with spring rolls. Lumpia Semarang has bamboo shoots added with eggs, chicken, shrimp and leeks. Because this is the most sought-after Semarang food. You will not have difficulty in searching for spring rolls but, to find the most famous spring rolls, you need to head towards Mataram and Kedungmundu roads, Raya No.16 Semarang.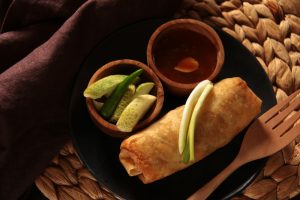 Garang Asem:

This is a quite popular food in Semarang. The dish is based on Kampung Chicken cooked with coconut milk with star fruit and chili spices, then put in banana leaves, later covered with a stick over it. It tastes rich in spices making this food much popular amongst locals and foreigners as well.