Merak or Pulo Merak is one of the sub-districts of the city of Cilegon, Banten. This place is famous for the Merak Port, which became a busy port being located at an intermediary between the islands of Sumatra and Java. This busy port serve hundreds of ferry shipping to the island of Sumatra through Bakauheni Port, Lampung on a daily basis. In addition to the port, Merak has a tourism potential that is not less interesting! As you know, the location of this Merak is on the tip of the island of Java, so it's not surprising, if this area holds a diversity of natural attractions, especially beautiful beaches that you shouldn't miss.
How will you reach? Merak can be easily reached by a bus, you can buy online bus tickets and gear up to explore this recommended tourist place. Keep on reading to find out about the varied incredible places that can be visited when you are in Merak:
Bukit Teletubies: The original name of this hill is not 'Teletubies hill', but known as the Yellow Kembang Hill. There are many hills referred as Teletubis in Indonesia by people usually, because of their resemblance to the hills on Teletubies children's TV shows. This Teletubies Hill comprises of green scenery that captures your eyes and offers a clear view of the township from the hilltop.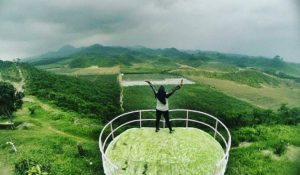 Merak Besar and Kecil Island: The Island, which is very close to the port, can be seen from the pier, the journey takes around 5 minutes to Merak Kecil Island and 10-15 minutes to Merak Besar Island. There is a Big Island that is actually a protected forest area belonging to the Banten Provincial Government, which functions as a protector of the port by being a deterrent to the waves that lead to the Port. Besides being able to enjoy the blue sea view in the morning and turquoise waves during the afternoon, you can also enjoy the ferry from this island, where you can find many coral stones, which are said to be the remnants of the tsunami of Krakatoa.
Kramat Tomb: This is believed to be the tomb of Prabu Ciung Wanara (grandson of Prabu Siliwangi). For those of you who don't want to go too far from Merak Besar Island, you can go to Merak Kecil Island, which is no more than 200 meters from the port. The island is only measuring 4.62 kms more or less like a soccer field. This is called the Small Merak Island that is more crowded than the Big Merak Island. The striking thing about Merak Kecil Island is the dazzling sunset that you shouldn't miss at all.
The Nuance: Visitors can sight different types of plants and trees. It serves as a home to the beautiful coral reefs and stunning sea views. Besides, some of the coastal area serves as a great location for sightseeing.